Counseling For Your Mental Well Being
Nutrition Resolutions Programs
Nutrition Resolutions Programs are tailored to every client's individualized needs, however, we would like to give you an idea of what services you can expect from the Registered Dietitian Nutritionist:
Build individualized short and long-term nutrition, health, and lifestyle goals.
Identify barriers and obstacles in the way of your goals and Assist in problem-solving.
Provide evidence-based nutrition education on balanced meal patterns, meal preparation, sensible food choices, appropriate portion sizes, and intuitive eating techniques.
Recommend macronutrient (carbohydrate, fat, protein) and micronutrient (vitamins and minerals) distributions based on your life stage, body composition, signs, symptoms, and health goals.
Membership to exclusive phone app which keeps you and your meals connected to the nutritionist during non-session times.
Parents of pediatric clients, in addition to the above, you will be provided with evidence-based techniques to assist in feeding and raising lifelong, healthy eaters.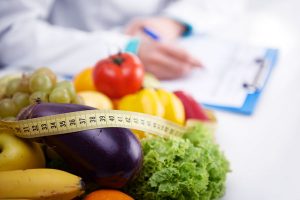 Every client requires an initial consultation. During the initial consultation, you can expect an in-depth assessment of your nutrition and lifestyle history, establishment of your short and long-term health goals, and a recommended plan of action to make your goals a reality. In an effort to provide the best outcome for the initial consultation, we ask that you complete the initial packet and return it via email to kate@triangleresolutions.com prior to your visit.
Single sessions are recommended for those who prefer to pay per visit, or for those only interested in a grocery shopping tour. A grocery shopping tour consists of you and the Dietitian Nutritionist touring the grocery or supermarket together. During this tour, you will learn how to navigate the store when shopping, how to make the best food choices, and how to read food labels. You will receive macronutrient recommendations based on your life stage and body composition. You will also receive a healthy grocery shopping list and a written summary of the foods you selected on that tour. Please note, if you have purchased a Nutrition Resolutions Program, you have the ability to exchange a follow-up session for a personal grocery shopping tour.
At this time, all Nutrition Resolutions Services provided by the Registered Dietitian Nutritionist are self-pay at the time of visit. Please refer to the program and single session fees below. Superbills are claims for the services provided that can be mailed to your insurance for possible full or partial reimbursement. We will gladly provide you with a superbill at your time of visit. Please feel free to call us with any questions.
Packaged Nutrition Resolutions Programs
Initial Consultation: $120, 60-75 minute session
4 week program: $360, 4- 45 minute sessions
6 week program: $540, 6- 45 minute sessions
8 week program: $720, 8- 45 minute sessions

Single Nutrition Resolutions Sessions
Initial Consultation: $140, 60- 75 minute session
Follow Up Session: $105, 45 minute session
Personal Grocery Shopping Tour: $140, 60 minute session

Treatment Services include:
General Health and Wellness
Disease Management
Weight Management
Disordered Eating
Emotional Eating
Gastrointestinal Disorders
Food Allergies, Intolerances, and Sensitivities
Anxiety, Depression, and other Mood Disorders
Child Nutrition
Autism, ADHD
Behavioral Disorders
Inflammatory Disorders and Diseases
Autoimmune Disorders and Diseases
When to Seek Help:
Counseling can be helpful to "tune up" or maximize one's internal performance. It is not unusual to feel "stuck" or unable to move forward when confronted with an emotional event. Temporary discomfort is normal; however a professional such as a Mental Health Counselor can assist when troubling reactions continue to interfere with one's daily functioning.


Our Treatment Approach:
Our primary treatment approach is solution focused that is brief with physiological counseling sessions that seek to bring about significant healing within shorter periods of time. Many patients struggling with anger, anxiety, depression, disruptive behavior, focus, guilt, grief, self esteem, relationship dissatisfaction, trauma, substance and gambling problems have obtained relief and positive change.